Tree Fact:
A healthy tree can increase your property value by as much as 27% while trees with dead branches, hollow cavities and other issues can decrease your property value.
Dennis Tree Service provides quick tree removal and insect treatment service for homes and businesses. We are licensed, insured, bonded, and provide residential and commercial service with over 26 years of experience. We will provide complete site clean up and our services are available for emergencies 24/7.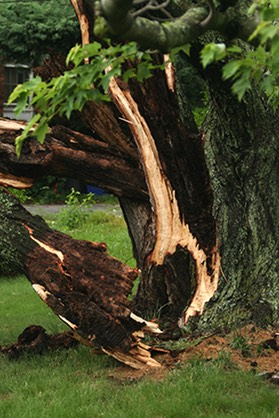 Environmental stress often makes a tree vulnerable to disease and harmful insects. Insects can jeopardize a tree's health by weakening its structure and causing it to become a hazard to your property. Because some insects are beneficial to a tree's health and survival, it is important to have a professional tree service inspect your plants. We are experienced in determining the characteristics and damage patterns of harmful insects. We understand the proper treatment to rid your trees of these pests.
More trees are lost to disease on an annual basis than are harvested for lumber, so recognizing and treating a tree disease early on is important if the tree is to be saved. Tree diseases are either identified by signs of the actual organism causing the disease, or a physical symptom of the disease on the tree itself. Diseases common to trees in the southeast include canker, rust, blight, decay, and little leaf. You can visit the Alabama Cooperative Extension System at www.aces.edu for more information.
Protect yourself, your property, and others from the dangers of a sick, dying, dead, or fallen tree. We offer a variety services to help combat tree sickness before it starts. Contact us today for a free consultation.
"Shane and his crew do excellent work. I would recommend them to anybody."
Mike M.
"I would recommend them for all your tree service needs!!!"

Debbis G.
"Excellent service, very friendly and fairly priced. Hard to find all that these days!"

Kyle P.